About the Database
This database details the first 350 DNA exonerations in the United States and updates the research in the Convicting the Innocent book.  New research using these updated data include a new book chapter, Convicting the Innocent Redux, presenting updated data from the first 330 DNA exonerations and an article updating data on false confessions and revisiting the problem of confession contamination.  This research was conducted by Professor Brandon L. Garrett with the support of the University of Virginia School of Law, including grants from the Olin Program and summer research grants.  The Open Society Institute provided a generous grant over several years that made this research possible.  Copyright © 2019. All rights reserved.
About Convicting the Innocent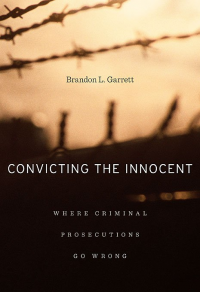 On January 20, 1984, Earl Washington—defended for all of forty minutes by a lawyer who had never tried a death penalty case—was found guilty of rape and murder in the state of Virginia and sentenced to death. After nine years on death row, DNA testing cast doubt on his conviction and saved his life. However, he spent another eight years in prison before more sophisticated DNA technology proved his innocence and convicted the guilty man.  DNA exonerations have shattered confidence in the criminal justice system by exposing how often we have convicted the innocent and let the guilty walk free. In this unsettling in-depth analysis, Brandon Garrett examines what went wrong in the cases of the first 250 wrongfully convicted people to be exonerated by DNA testing.
You can read more about the book, view the table of contents, read quotes from reviews, or buy Convicting the Innocent from: Amazon, Barnes and Noble, Harvard University Press, IndieBound, and Powell's, or you can find it at a library. Translations of the book are now available in China, Japan, and Taiwan.  You can also follow the book on Facebook.
About Brandon L. Garrett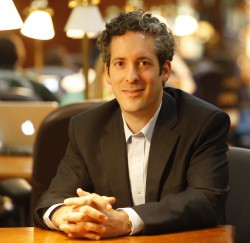 Brandon L. Garrett joined the Duke Law faculty in 2018 as the inaugural L. Neil Williams, Jr. Professor of Law. A leading scholar of criminal justice outcomes, evidence, and constitutional rights, Garrett previously was the White Burkett Miller Professor of Law and Public Affairs and Justice Thurgood Marshall Distinguished Professor of Law at the University of Virginia. His research on our criminal justice system has ranged from the lessons to be learned from cases where innocent people were exonerated by DNA tests, to research on false confessions, forensics, and eyewitness memory, to the difficult compromises that prosecutors reach when targeting the largest corporations in the world.
In addition to numerous articles published in leading law journals, he is the author of five books: The Death Penalty: Concepts and Insights (West Academic, 2018) (with Lee Kovarsky); End of its Rope: How Killing the Death Penalty Can Revive Criminal Justice (Harvard University Press, 2017); Too Big to Jail: How Prosecutors Compromise with Corporations (Harvard University Press, 2014); Federal Habeas Corpus: Executive Detention and Post-Conviction Litigation (Foundation Press, 2013) (with Lee Kovarsky); and Convicting the Innocent: Where Criminal Prosecutions Go Wrong (Harvard University Press, 2011).
Convicting the Innocent was the subject of a symposium issue in New England Law Review, and received an A.B.A. Silver Gavel Award, Honorable Mention, and a Constitutional Commentary Award. It is has been translated in Japan and Taiwan, and is China. Garrett's law review articles can be downloaded on SSRN.
Garrett's work has been cited by courts, including the U.S. Supreme Court, lower federal courts, state supreme courts, and courts in other countries, such as the Supreme Courts of Canada and Israel. Garrett also frequently speak about criminal justice matters before legislative and policymaking bodies, groups of practicing lawyers, law enforcement, and to local and national media. He attended Columbia Law School, where he was an articles editor of the Columbia Law Review and a Kent Scholar. After graduating, he clerked for the Hon. Pierre N. Leval of the U.S. Court of Appeals for the Second Circuit. He then worked as an associate at Neufeld, Scheck & Brustin LLP in New York City. A more detailed bio is available here. His author website is available here.